April 2016
IV Interactive Launches Modern, Re-Branded Pacific Family Practice Website
IV Interactive recently launched a fully re-branded Pacific Family Practice website to provide a clearer focus on the comprehensive range of care offered and to educate patients about the practice's "Whole-Family" mission. The new website offers a modern, responsive design along with fresh branding, a new logo and improved messaging.
Debbie Tassone, Practice Manager of Pacific Family Practice noted:
"The new site has been very well-received by our existing patients and staff, and it has significantly increased our new patient appointments. Working with IV Interactive has been nothing less than perfection."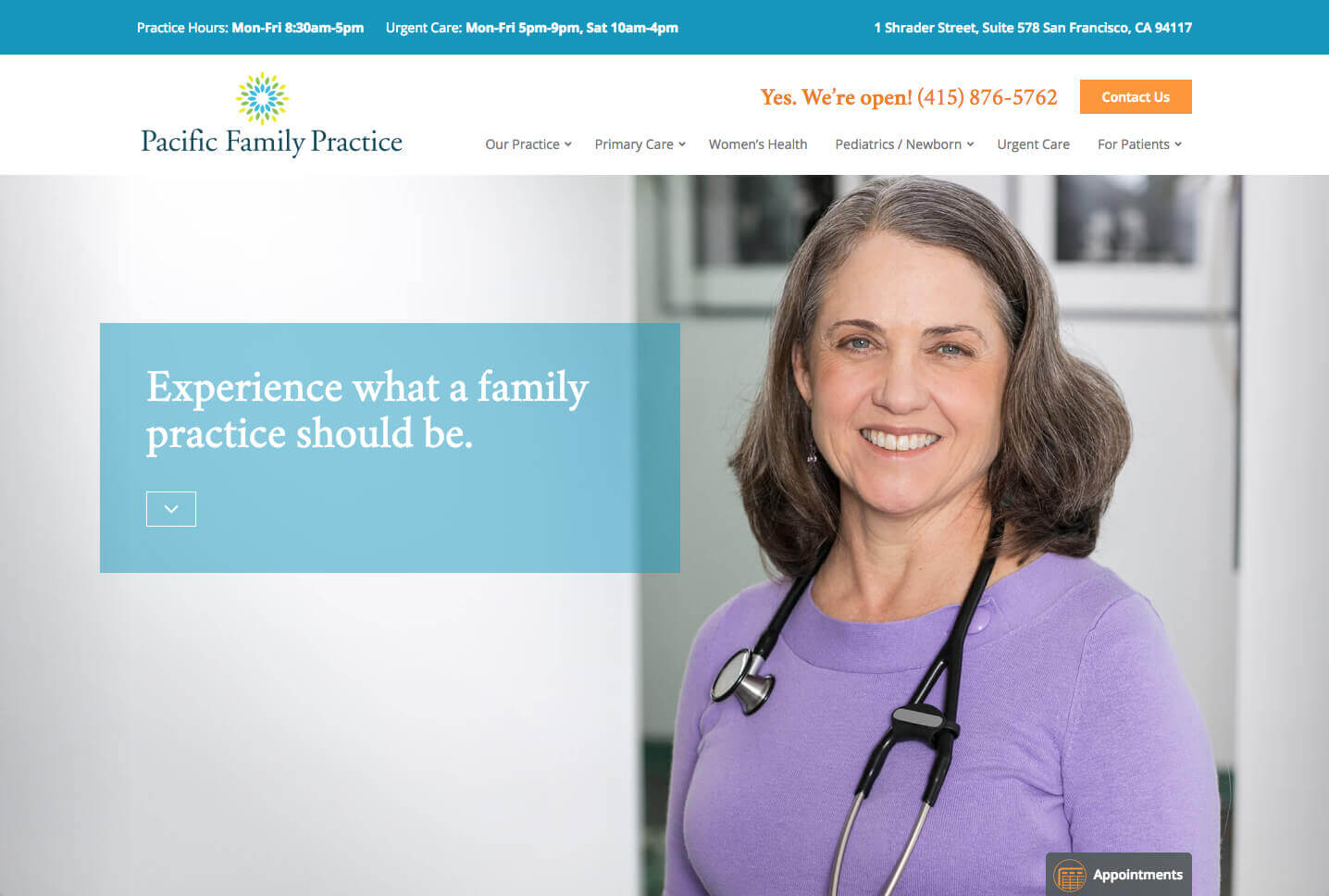 Since the site's deployment, performance metrics have increased markedly, resulting in a significant influx of new patients. Some of the highlights include:
New patient acquisition via the practice website is now 3-4 times the industry average
The number of patients visiting the site on a mobile device has increased by 170%
The average time visitors are spending on the website has increased by 50%
The central components of the new website strategy were to improve usability and place an emphasis on patient experience and practice growth. To that end, IV Interactive created a website that:
Pacific Family Practice has been operating in San Francisco since the early 1980s and enjoys a strong reputation that has resulted in a committed patient following. The practice's long-term success has been proven through the generations of patients (newborns, kids, teens, parents and grandparents) who return for exceptional care.
Pacific Family Practice chose IV Interactive for their expertise in helping medical practices attract more patients. IV Interactive has a proven track-record improving online patient acquisition through a combination of award-wining design, expert inbound marketing tactics and a sharp focus on the patient experience. The results for clients include improved reputation in the community, steady growth of new patients and a marketing effort that requires less practice involvement, freeing up time to allow physicians and their staff to focus exclusively on patients.